Challenge
Sustainability will play an increasingly important role, both for individuals and organizations. Shoes, clothing or furniture must be produced as sustainably as possible, we use sustainable energy solutions in homes and we exchange polluting cars for electric ones. We are becoming increasingly aware of our negative impact on the environment and are eager to do something to change this.
ecolegIT helps organizations to become more sustainable by combining CO2 compensation and technology in one powerful proposition. Get Hooked is tasked with converting this proposition into a user-friendly platform on which moving companies and corporates can register their removal processes and offset their CO2 emissions at the touch of a button.

Journey
For ecolegIT we are not just an external agency, we are colleagues. This results in short lines, weekly brainstorming sessions or meetings to determine the strategy for ecolegIT. We are involved in the entire marketing process, from start to finish (and beyond). In this way we ensure that ecolegIT can make the world a little better every day with the right resources, in line with its sustainable vision.

Impact
Meet ecolegIT, a user-friendly and attractive web platform where organizations and moving companies can upload their moving details to calculate their carbon footprint. But it goes further than just calculating. ecolegIT ensures that the emissions are converted into an investment in a sustainable forest project of one of their affiliated forest partners.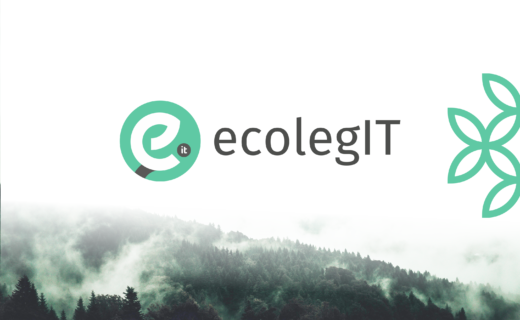 Get Hooked has developed ecolegIT from A to Z, to make the sustainable impact of the program tangible. The love for sustainability can therefore be seen everywhere in the branding and corporate identity. If you look closely at the logo you will discover a small tree shoot, the green and light colors transfer the feeling of peace and nature to you, where the round shapes in the logo and the corporate identity elements create a balance between nature and technology. By naming "IT" separately in both the name and logo, it is clear that the platform has a strong technological foundation.
The website and the entire platform breathe this house style thanks to the visual elements that keep coming back.

Moving companies and organizations can upload their moving details via the secure environment. Thanks to smart links with move management systems, this is even possible with the push of a button. Everything to make it as easy as possible for the user. Because the fewer actions that are required, the easier it becomes to do business sustainably.


View the ecolegIT website here!