Opportunities that (online) marketeers should focus on in 2020
The 'Webwinkel Vakdagen' is one of the most important events in the field of the latest e-commerce trends and developments for the Dutch e-marketer. Obviously, we could not miss that and so Iris was there on behalf of Get Hooked! The 'Webwinkel Vakdagen' is an event where major players such as bol.com and Tony Chocolony are present. However, you may also encounter starting entrepreneurs, (online) marketing parties and automation software providers. An event where brands and experts come together to share knowledge and gain inspiration. The event offers a wide range of lectures: from beginner to next-level expert and mastermind. I have been able to visit 5 lectures this day, given by experienced email marketeers, SEO specialists, online marketers and social media experts.

Now it's up to me to pass on these trends and knowledge to the readers of Get Hooked so that you can prepare for the online landscape of 2020!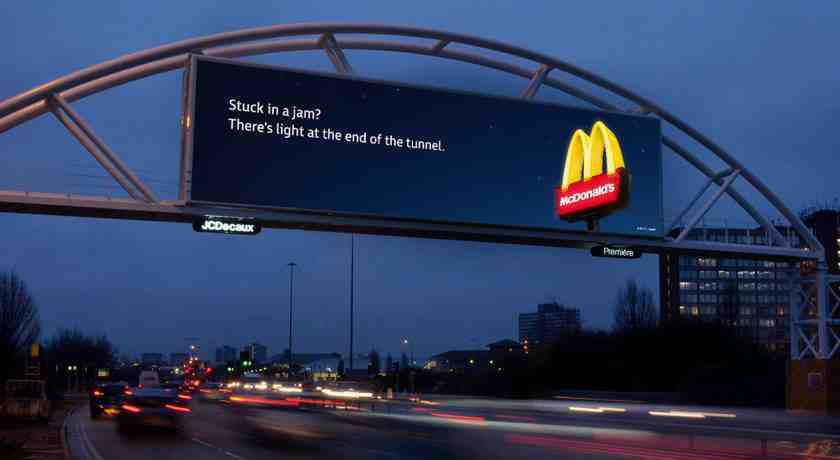 1. Digital out of Home

You have probably already seen them before, advertising towers along the highway or large buildings where videos are displayed. This is a trend, also called "Digital out of Home", which has been growing for several years. Digital out of Home offers a completely different way of advertising that is context and moment bound. No more randomly firing away but sending a targeted message at a specific time in a specific situation. Think of moments of traffic jams, the weather in summer or even during specific events. With Digital out of Home, the power of the moment is central, and you can appeal to specific target groups with your ads.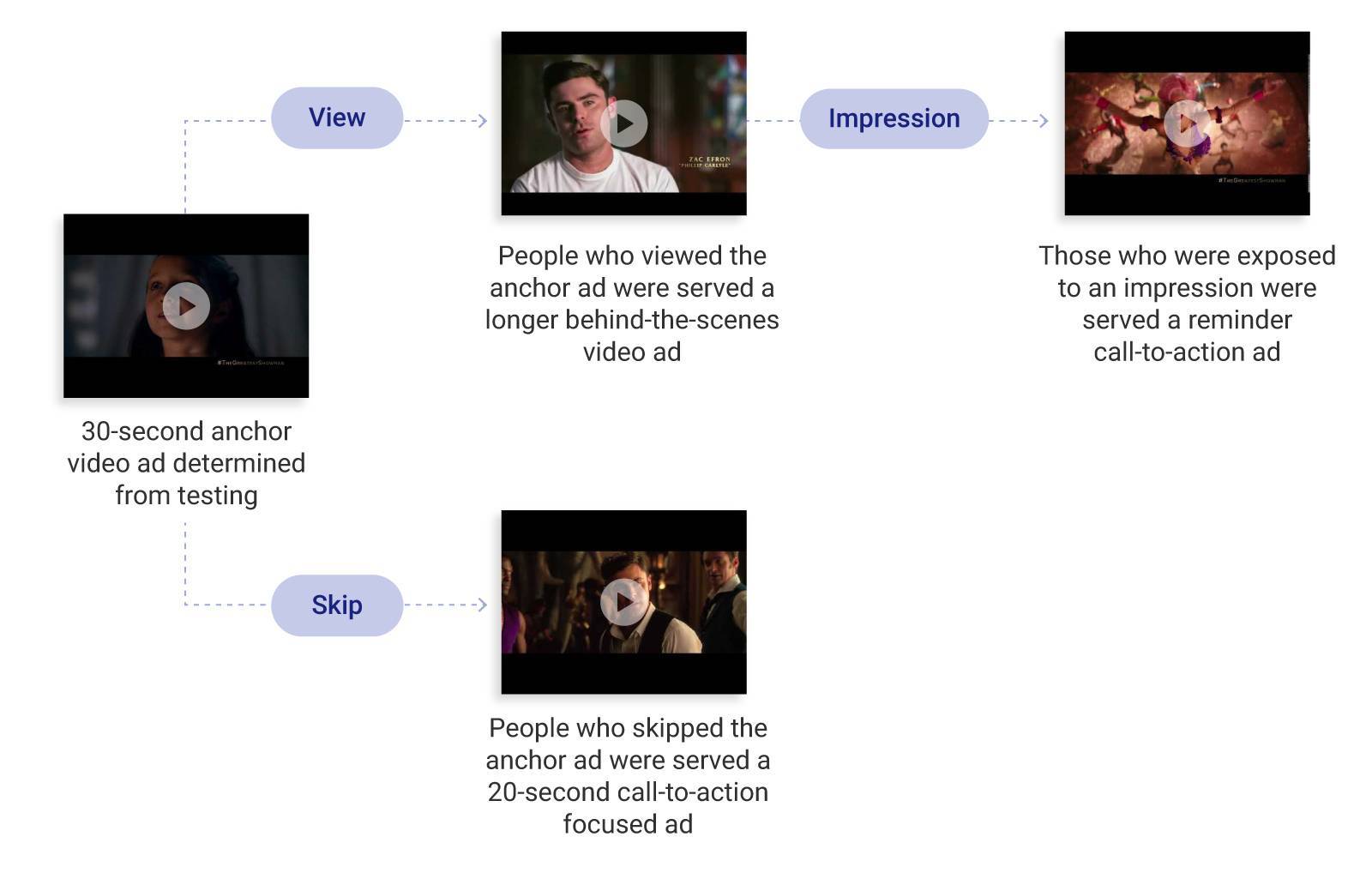 2. Video Storytelling

Videos have been successful for a long time when it comes to advertising. It has been proven that a video is processed in the brains of viewers after merely 2 seconds. A new trend that stems from the popularity of video marketing is therefore storytelling through a series of different videos that follow up on each other. When viewers completely watch your first video, they will see a follow-up video at a later time. Facebook defines this trend "as a sequential approach to digital marketing, with each advertising message informing the following".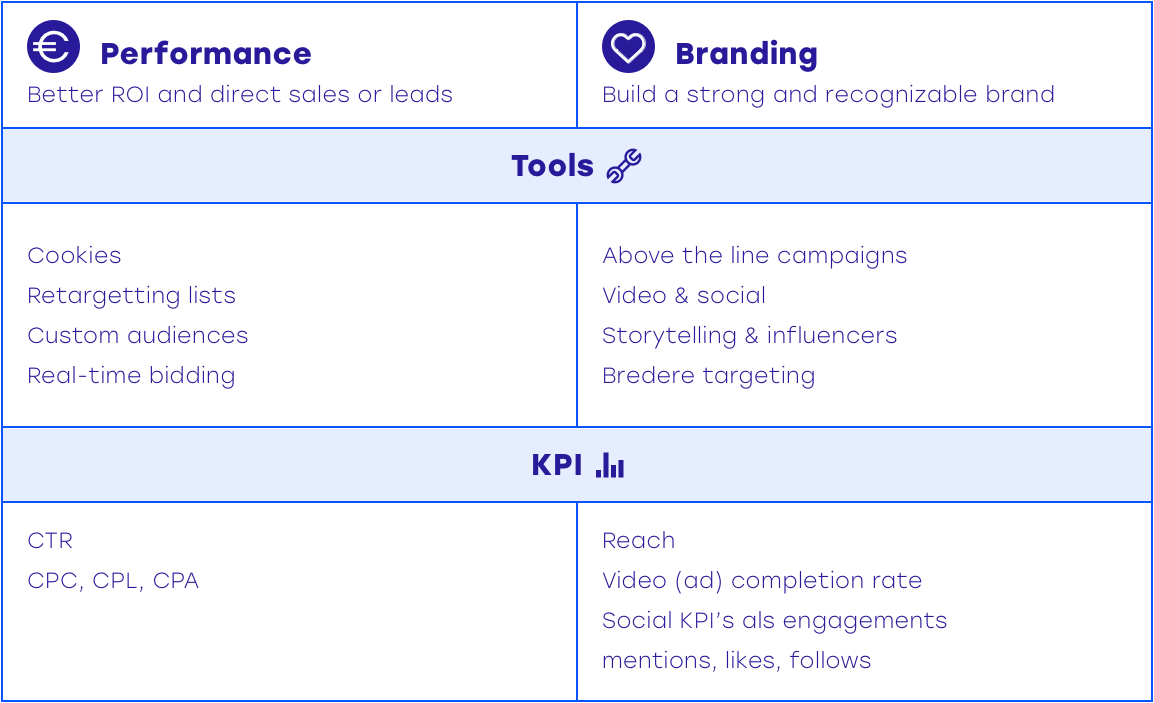 3. Combine brand & performance

Start with a campaign in which brand awareness & performance (sales) advertisements complement each other. Brand awareness looks at long-term goals, while performance marketing ensures sales in the short term. This trend therefore ensures that brands first build a relationship with their customers, gain trust and become "friends" and then apply that short-term or performance. A nice distribution of this marketing trend is 60% brand awareness ads and 40% performance ads. For example, there are different tools that you can use for branding and performance and KPIs. View them on the image!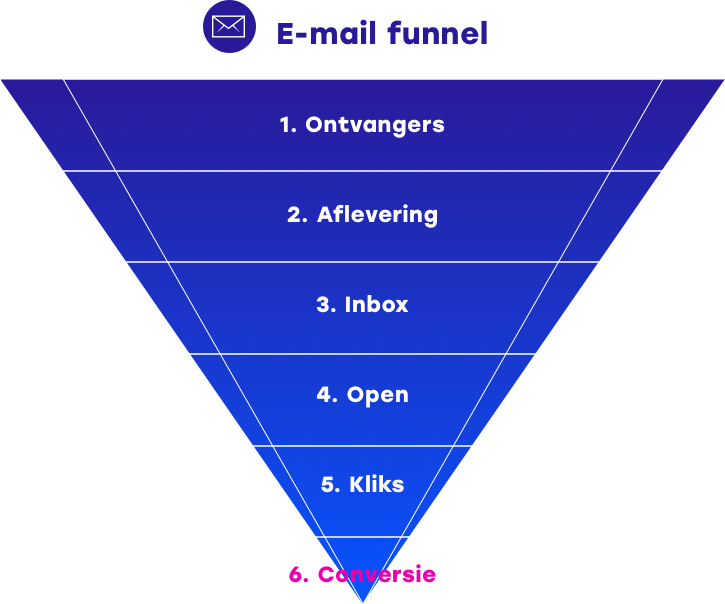 4. Tips for e-mail campaigns with A/B-testing in 2020

A / B testing of your E-mail campaigns is nothing new, but during the WWV I came across some relevant tools. To measure the success of your A / B test, drafting relevant KPIs is your main task. What do you want to measure or what do you want to increase? Do you have enough recipients for your mail? Does 95% of these e-mails also arrive in the inbox? How many people open the mail, click on a link and make a conversion? Start at the top of the E-mail funnel and work down to see what you want to focus on during the A / B test.

Subsequently, the preparation of a hypothesis is important. During an example case, the goal was to increase the conversion. In Google Analytics, it emerged that people were quicker to purchase on the desktop compared to them being active on the mobile and making purchases. To respond to this, the e-mail campaign was sent at a time when people were active on their desktop. Ultimately, this led to more purchases in the web shop. View the exercise below:

By changing "the sending moments" (element) by "mailing when the recipients are active on desktop" (adaptation), "the recipients receive the mail when they are active on a desktop" (impact on behaviour / feeling), so that they " surf the web shop more often on the desktop "(test KPI).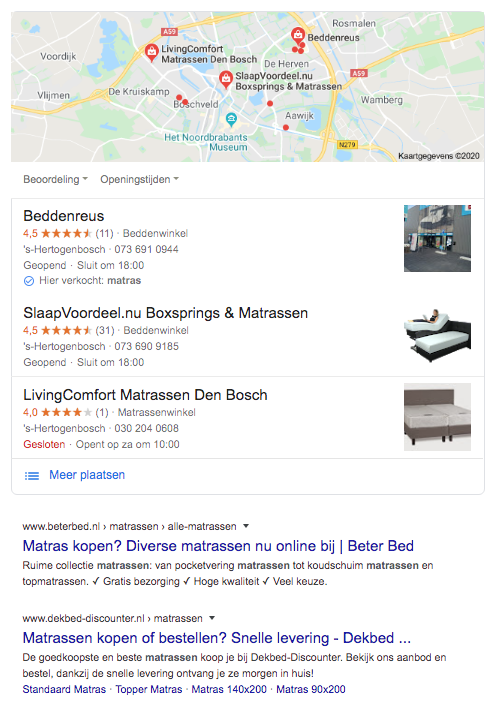 5. Local SEO

One of the biggest trends within search engine optimization is local SEO. Google is constantly updating its local SEO algorithm. With a non-location-related search as basis, a widget with local search results is still preferred over the normal, non-location-based result ".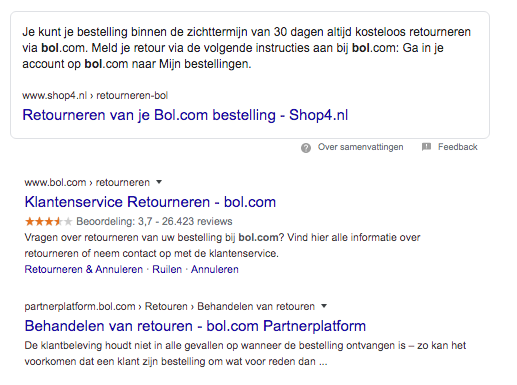 6. Structured Data means a larger visibility on Google

Structured Data has been around for quite some time, but its importance is growing. Structured data is making content understandable for search engines by marking your content with a piece of code. This means that you explain what a certain content stands for. By coding this you make it possible for Google to preview certain elements of your website directly in the Google search results. For example, the FAQ page can be highlighted in a search in Google, or the answer to a simple question "return to bol.com" can be displayed. What is striking is that this puts shop4.nl above the search result of bol.com, see image.

7. Optimize landing pages in the customer journey


The intention of the consumer changes during the online search process. It is therefore important to set out a customer journey based on keywords. Answer the following question for yourself: Which keywords match the desired landing page or pages? It is important to streamline the message of the advertisement with the landing page: search and you will find it. If you know the search intention of the target group, you just have to give a little push.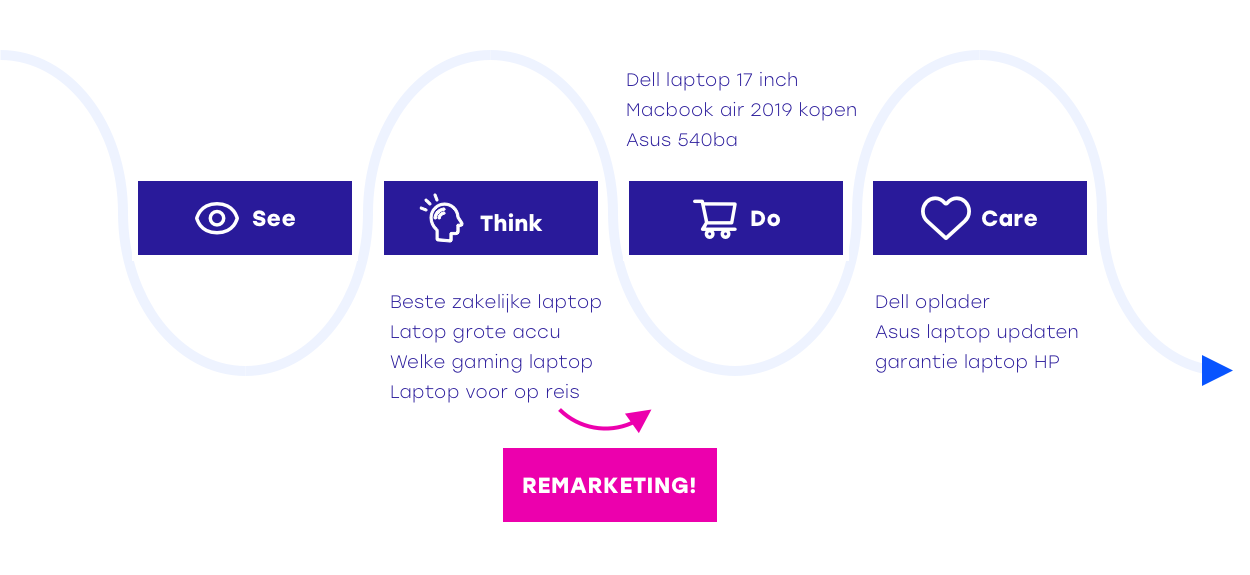 8. Social media: mix private & public
The use of social media is growing, especially platforms such as Instagram and YouTube are popular (Source: Newcom Research). There is a particular need for a place where consumers can discuss the brand and its products, also known as social groups. To respond to this as a brand, you have to coordinate private and public channels efficiently. However, as a brand, respect the (unwritten) rule and don't place advertisements in a private group. Instead, let consumers enter into a discussion with each other for word-of-mouth advertising!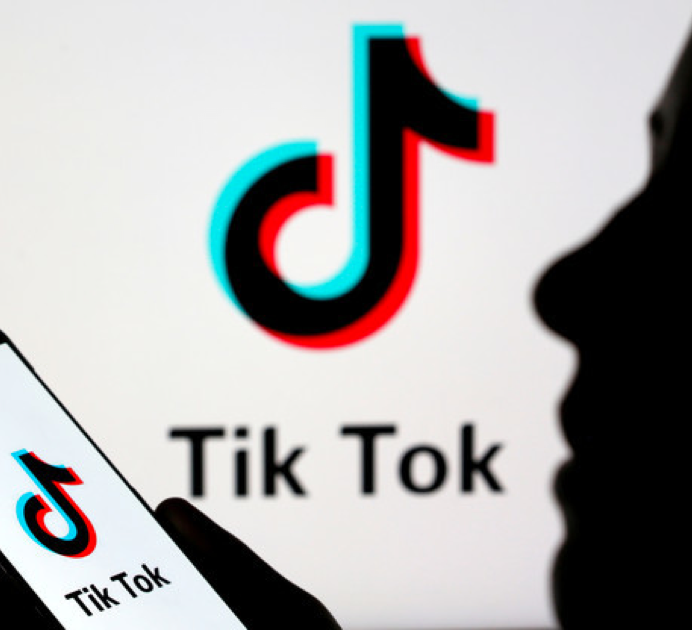 9. Starting with TikTok?
TikTok is hot! It is the most installed app in 2019 and on average, TikTokers watch 46 minutes a day. On TikTok you can film yourself while you dance, sing or playback. The maker can then edit the videos himself with different effects and post them online. Currently, TikTok is used in the Netherlands by 700,000 users aged 15+, and 425,000 users aged 6 to 14 (Source: Newcom Research). In the total spectrum, TikTok only has a serious position under the age of 12. After that the interest stagnates. However, the social platform is busy becoming more attractive for the older target group and the focus will be on this target group the coming period. A full Tiktok strategy is not (yet) necessary but keep an eye out for innovative content ideas & further developments. Although, TikTok is still not used by many companies, your company now has the chance to be the first to enter the field.
10. Influencers, separating the wheat from the caff
Influencers can no longer be ignored in the media landscape. A development that we saw in the past year reflects on the way we work together: Where many brands were still experimenting with influencers, this frequency has increased considerably in the past year. Many brands opt for the "always on approach". Here there is no cooperation on a campaign basis, but influencers ensure constant online visibility. An example is Humberto Tan who has entered into a long-term partnership as Canon's ambassador (Source: Canon).
.